They lost all their possessions in the October fires. Two bronze sculptures were the only things even recognizable in the ashes. The heat of the fire melted the foot off of the sculpture "Dive" but after seeing a photo of the two pieces I thought there was a chance I could do something with "Bask". The following images will show some of the steps involved in restoration. The piece got so hot in the fire that much of the surface liquified and wrinkled upon cooling. There were areas that had melted glass embedded in the surface. I decided to leave the wrinkled surface on some of the sculpture in order to embody what it had been through, but not the skin, the wrinkled skin was too disturbing to me.
Finished restoration and ready to ship back to Randy and his wife.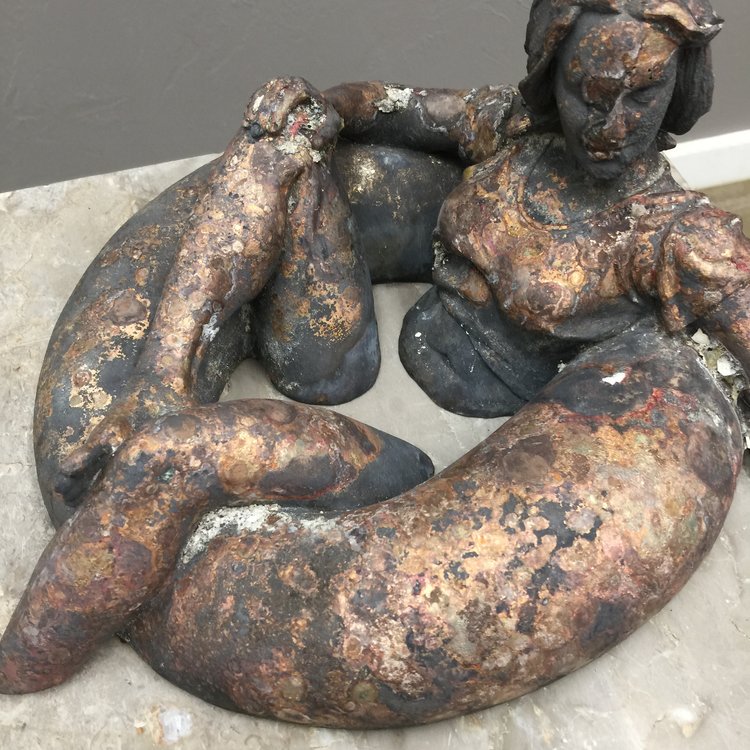 As it was found in the ashes. Severely oxidized, surface wrinkles, glass meted into the bronze in several areas, and the entire piece warped and bowed from the heat.
First thing was prepare to sand blast so I could see what I had to work with.
Sandblasting with recycled fine white silica sand. The sand has been used so often it's no longer sharp so I don't risk damaging the surface.
Initial sandblasting finished, now I can see what I have to work with.
Chiseling out the embedded glass.
Tig welding damaged areas with bronze filler rod.
Welding up damage on the face.
Sanding down the preliminary weld repairs.
The form is warped from the heat. The tube & arm & leg need to be flat on the ground plane.
Getting the piece very hot and then quenching in cold water to soften the bronze before trying to flatten it out.
lifting the piece out of the water after quenching.
Building a tool to flatten the sculpture
Marking the bronze in preparation for the press.
The center of the piece is blocked up and the pressure is pushing the perimeter of the piece down.
The press along with some hammering got the perimeter of the tube down, but the arm & leg shrunk in the fire, so I'm adding bronze by TIG welding.
The face need a little work.
Spraying on Birchwood Casey cold.
All black now, ready to scrub back the skin with scotchbrite pads, a brass wire brush, and steel wool.
Scrubbed back and ready for heat to set the black.
The Black is set, ready for Ferric Nitrate.
Heating and spraying Ferric Nitrate.
Still hot after applying Johnson's paste wax.
Cooled and ready to ship.